20 weeks this time around sure feels bigger than the last.
All week I've been singing oh -oh, we're halfway there, oh-oh livin' on a prayer.
I had some crazy anemia for a while, but it's soooo much better now. (thanks to a really disgusting supplement)
There is a reason my head is not showing in this picture.
I dyed my hair.
It was a crazy crazy idea.
I'm so nervous to show you.
Deep breath.
See? I told you it was crazy.
My grandma told me I look like Lady Gaga - and I think she meant it as a compliment.
I was going to wait to show the internet this drastic change until I had a decent picture with a cute outfit, make-up and everything.
But the roots are coming in faster than you'd believe.
So I had to settle for Joe's photo of me all dressed up for hip-hop class.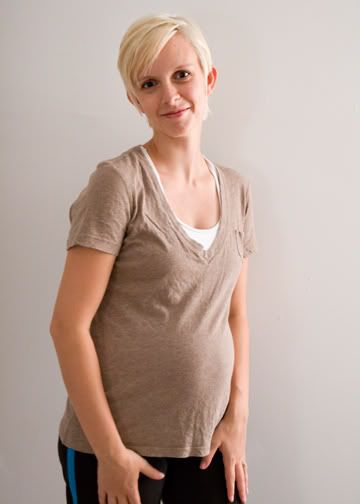 That's right Internet - I went platinum and I take hip-hop class*.
I'm full of surprises. That's how we keep this relationship fresh.
*I bought a 10-class pass to a studio in the city, and it's been SO MUCH FUN. I've also done theater dance and swing, with belly dancing and ballet coming soon
.