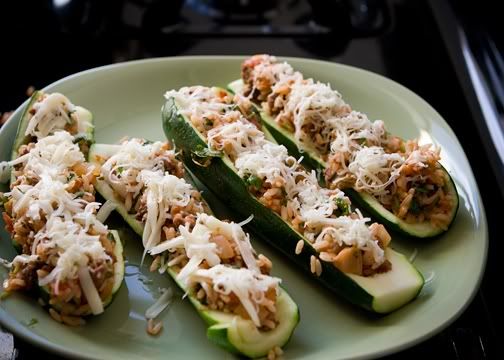 Let me preface this post with a
2 part confession:
1. I do not like to cook.
Yes, I realize this could be considered a problem as my current profession is that of home maker. I clean, I rear a child, I decorate - I don't really cook.
2. I am not a food photographer.
(see above photo)
If I were a food photographer I would hire a food stylist, take these photos in a studio, and have my friend Alpha give me pointers. She's awesome!
Whew, it feels good to have that off my chest.
That said, if you ever see a recipe on this blog you can be assured of
2 things:
1.
That it is
suuuuuuper
simple because I just don't do involved recipes
2.
That it is
so so so
delicious that I took the time to photograph it poorly, write up the recipe and post it here for you to see. I risked embarrassment to bring you this recipe.
And now, after that long and list-y preamble, here is the recipe for
Southwest Zucchini Boats
4 medium zucchini
1 lb ground beef*
3/4 C salsa
1/4 C dry bread crumbs
1/4 C minced fresh cilantro
1 tsp chili powder (maybe less - our first batch made us a bit teary)
1/4 tsp ground cumin (I just do a pinch, otherwise it tastes like a taco)
dash of pepper
1 C shredded monterey jack cheese
Cut zucchinis in half, hollow and place in microwave safe dish
Cover and microwave for 3mnin or until crisp-tender. Drain and set aside
Meanwhile, in a large skillet brown beef and drain, remove from heat
Stir in all ingredients and 1/2 C of the shredded cheese
Spoon into shells and sprinkle remaining cheese over top
Microwave uncovered 3-4 min until sprinkled cheese melts
* in our house we prefer to cut the meat portion in half and supplement it with rice instead - very delicious.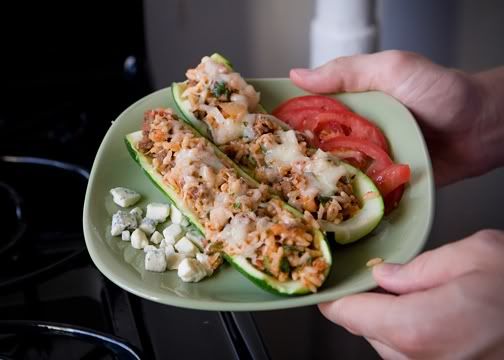 This recipe is brought to you in part by Taste of Home magazine.
It makes cooking a little more enjoyable.