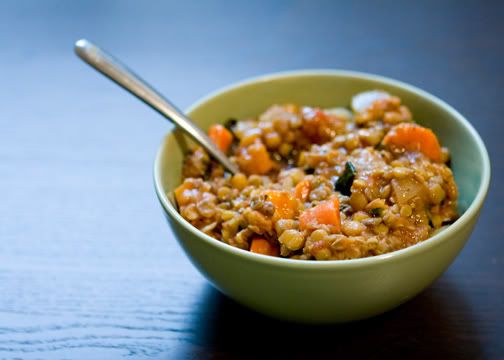 Note to self: Lentils do not photograph well
Note to all of you: Do not let that stop you from trying this recipe.
Seriously, this is the best lentil soup recipe EVER! I would like to make a public service announcement that everyone in the world should eat more lentils. You really won't regret it. The basic recipe was found
here
, and then I made a ton of adjustments based on the comments people made. So I consider the following a bit of a masterpiece in my personal culinary history.
1 onion, chopped
1/4 C olive oil
4 carrots, diced
2 stalks celery, choped
3 cloves of garlic, minced
2 tsp dried oregano
2 tsp dried basil
pinch of red pepper flakes
1 C dry brown lentils
1 C dry red lentils
1 can (28oz) crushed tomatoes
4 C broth (chicken, vegetable, whatever you want to use)
1/2 C spinach, thinly sliced (sometimes I add more - just depends on my mood)
2 Tbs basalmic vinegar
salt and pepper to taste
In a large soup pot, heat oil over medium heat. Add onions, carrots and celery. Cook and stir until onion is tender. Stir in garlic and all the spices. Cook for 2 minutes.
Stir in the lentils, add tomatoes and broth. Bring to a boil. Reduce heat and simmer for at least 1 hour. When ready to serve, stir in spinach and cook until it wilts. Stir in vinegar and season to taste with salt and pepper. Add whatever else you think it needs to be delicious!