- I'm glad we're moving to an apartment with more space.
- I'm extremely grateful our new place will have an elevator. (I think this every day as I haul the ever growing toddler and the yet unborn up 5 flights of stairs)
- I realize our timing means that December will ALWAYS be a crazy month in our home.
- I'm trying to be over-the-moon excited, but honestly, it's just not as romantic as the first time around:
maybe when the sickness and exhaustion leave
maybe when my bump looks like more than a large lunch
certainly when I hold that sweet tiny infant in my arms
Yes, we're having a baby. I feel grateful and humble, and hopeful that the excitement will come soon. Shortly after learning there would be an addition to our family, I found myself wandering in the Met and I saw two paintings that depict my conflicting hopes and fears for the future.
My hope is that the entrance of our second child will be something like this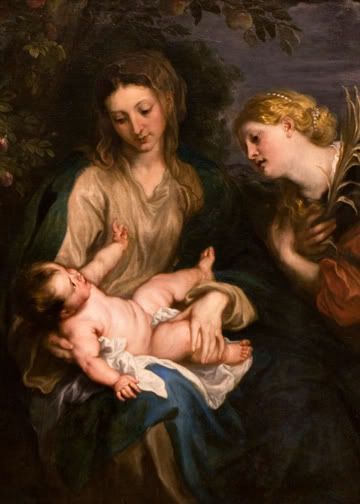 I, the serene mother, lovingly hold my tender babe.
I feel the presence of angels ushering me through the haze of the newborn days.
But I worry that being the mother of multiple children will feel more like this
Dear Lord, please don't let it be like this.
Because I would not be handling as calmly as the woman pictured.