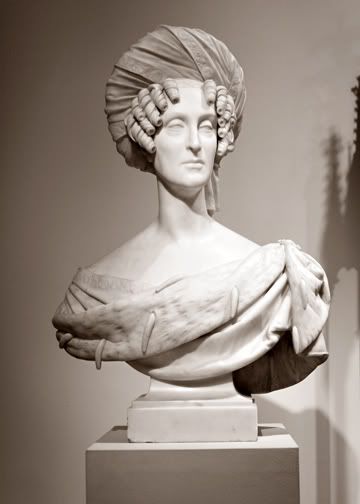 You know what it means when you see a photo of a statue up here. It means I've come across something that's made me think and I want to share it with all of you. I hope you will read through this post and then contribute to the conversation in the comments - I really want to know what you think!
The Marriott School Alumni Magazine published an article recently that my dear Joe encouraged me to read. Based on a campus devotional address given by Professor Jeffery Thompson, the article is called Finding Your Calling. [click the link to read the full text].
Thompson discusses the anxiety we often feel when we think about what our calling may be in this life.
Did I miss it? Am I up to the task? Is there really only one way? Are you serious - this is IT?
I ask myself that last one a lot. Thompson presents the misinformation (what he calls heresies) to which we often fall victim when we consider our callings in life. He then corrects them with real life examples and gospel principles.
Here are the heresies along with a few of my favorite quotes from the article:
1. You might have a calling or you might not
2. You have to find your one true calling
3. When you find your calling, work will be bliss
4. The world will celebrate your calling
Thompson discusses the challenging work of zookeepers (which is pretty much the same as mothering); how they are often underpaid and overworked but still feel a great sense of satisfaction with their work. He concludes:
The pain and sacrifice were not threats to their sense of calling - they were part of it. The work was meaningful because of the burdens.
Also:
You may do the most important, exciting work in the world, but some days will be mundane. You will be called upon to sacrifice. We can't expect deep meaningfulness from our calling unless we are willing to assume its burdens as well.
Remember that it is a heresy to believe that work is meaningful only when it gives us status.
When you focus your work first and foremost on blessing others, you will become extraordinary at what you do. You will find fulfillment and success much more reliably than if you work to get ahead.
There are not enough surfaces in my home for me to cross stitch all of these gems. But I would like to remember these principles on days when my work feels like pure drudgery. Friends, what about you? What are some of the callings you've considered for your life? What are the dreams you still hold on to? What are you doing to achieve them? What holds you back? How do you bridge the gap between dreaming big and performing the day to day necessities? I guess all these questions boil down to fulfillment. Are you fulfilled? If so, who is your therapist?
Just to get the juices flowing here's a fun list of things I'd love to be. Some are just pipe dreams, others are really going to happen:
- lounge singer
- paramedic
- ASL interpreter
- awesome gardener
- neighborhood watch lady
- community theater star
- birth photographer
- expert quilter
- zookeeper (I wanna hold baby monkeys)
- photography mentor
- author