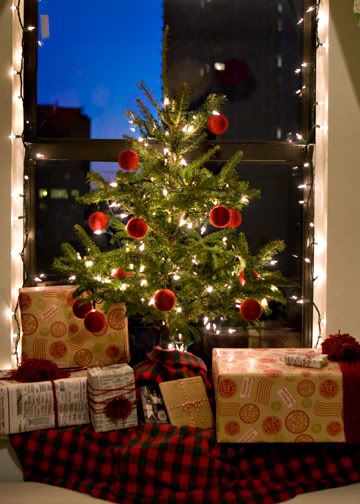 As we quiet down into this Christmas Eve, I just wanted to come share a few thoughts about my two favorite Christmas songs. I hope you'll tell me your favorite song and why it is special to you.
Silent Night
- A long time favorite, this song has new meaning to me now because of my experience last Christmas Eve. Eleanor was only a week old and decidedly nocturnal. In those nights leading up to Christmas, it seemed the only way I could calm her was to walk around our beautiful tree, showing her the lights and softly singing Silent Night. It was a lullaby for my newborn babe. I held this tiny baby in my arms and in the deep stillness of the night felt a kinship with Mary, the mother of our Savior. I realized for the first time just how humbling it would be to bring forth your firstborn in a stable. Last Christmas Eve my sweet daughter was wrapped in blankets in my arms. Holding her, I thought of the greatest gift God ever gave to man - a tiny baby swaddled, lying in a manger.
The Little Drummer Boy
- This is the first song I ever remember learning. We sang it for a Christmas performance in my preschool and I was so proud to have remembered the lyrics to a song with multiple verses! Today this song touches me so much that I tear up each time I hear it. There is sincerity in the lyrics that I feel is often overlooked for the prominence of the percussion (
pa ra pum pum pum
). But who has not felt the words inside themselves, "I have no gift to bring that's fit to give a king." We all know that feeling of humility as we marvel at the perfection of Jesus Christ and wonder what we could ever offer. And then there comes the realization that all God wants from us is us - doing our best, loving our best, playing our best.
"I played my drum for Him. I played my
best
for Him."
(feel free to write that on my gravestone)
These are some of the thoughts bouncing around my head this Christmas Eve. I hope your night is peaceful, magical, and full of joy. When you get a chance, please tell me about your favorite Christmas song. Merry Christmas all!