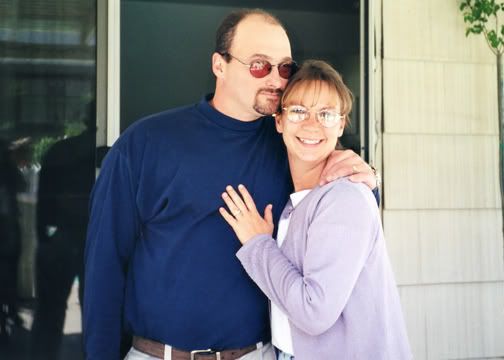 This is my mother. Isn't she beautiful? I don't have many photos of her and now that she is gone, any photo of her is truly a treasure. As are stories or memories in which she plays even the tiniest role. It's funny how death makes every little detail seem so very important.
This photo is one I came across for the very first time while planning her memorial service and it took my breath away. She is so alive, so happy and healthy. Taken in 2001, this picture is exactly how I want to always remember her. So much of her life was not as this photo reflects - it's good to see that she had joy and she had love, even if it wasn't always this way.
You see, my mom died of an overdose in a motel room in Wisconsin.
It was something I always knew could happen. I often said to myself and others that I was just waiting for the day I got a call about her death. And yet, when the call came, I realized that nothing could have prepared me for the shock and the sadness I felt. My mother was gone. And the events surrounding her passing have cast a long shadow over all of us who are left behind.
I don't write these things to sully her memory. I write them because they are true - and in this process of healing,
truth
has been very important to me. I cannot sweep under the rug all the struggles and hardships that my mom faced in this life. I can't pretend that all of our memories are happy ones.
What I can do is recognize that there is beauty in the struggle.
That it's the hardest things in life that teach us the most important lessons.
That greater than all our human frailties, there is truly divine and all encompassing love.
When a person departs this life, all we have is the love we gave them and the love we felt in return.
I am forever grateful to have a mother who taught me how to love. She loved so freely - it was her most precious gift to the world. She offered her heart, again and again. She was brimming to the top, spilling over with love continually. It embarrassed me as a teenager, it frustrated me as an adult (watching her love all the "wrong" people) but now it makes me so very proud. She was fragile and she was vulnerable, and she never once shied away from giving her love to another person. What greater gift could she have offered than this?
If the measure of a person's life is how much love they gave, I think my mom did just fine.
I am continually learning the most sacred lessons of my life from this tremendously hard experience. I will write more and share more as it seems appropriate. I just want to finish tonight by saying that in these last weeks, I have felt SO MUCH LOVE. The love of friends and family who have reached out to us, the love that has been expressed in thoughts and prayers and cards and emails and phone calls and meals. I have felt the love of my mother more in the last week than I have in a long time. She is free from her mortal body and I have felt her true and deep love for me in a very powerful way.
More than anything I have felt the love of God surrounding me continually. It is true that prayers are answered and that sometimes we can feel His love palpably around us. In this sorrow I have found reason to rejoice, for my mother has returned home to that God who gave her life. She is safely enveloped in the arms of His love and she - like all of us - is redeemed by the perfect love of our Savior, Jesus Christ. Never have I known these things more than I know them now.
I hope to continue to learn love, to cling to love, to speak love, and to give love. Truly, what else is there?