Who, me? Hiding from my blog? Hiding from my faithful (though tiny) readership? Never.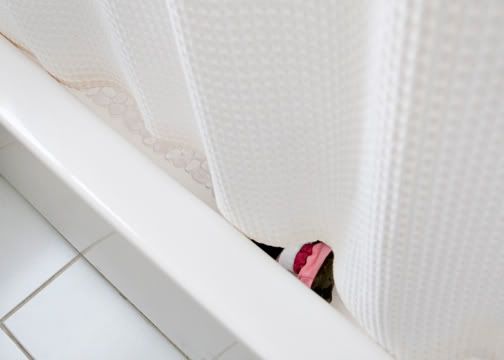 Guess where I found Ellie hiding when we were supposed to be heading for playgroup?
Okay, so I have been absent from this space for a while. Mostly for very justifiable reasons. There was a weeks long vacation to Utah, we all had illnesses to recover from upon our return, things like that. But there is one reason I've been gone of which I'm ashamed. I've let myself feel overwhelmed by my little blog.
Do you know the feeling? You had a list of things to blog about, you got too busy, now it feels too late, you have writer's block, you're out of practice, you've lost the habit, everyone else posts cooler things than you do. The list goes one and on for me. But it stops today! No reason to feel overwhelmed - this is my fun fun fun creative outlet. And if it's not fun then there is no point to it. Sorry for that rant, I just needed to remind myself publicly that this is my blog and I will post when I want to.
(Any thoughts on fighting the self-imposed pressures of blogging?)
And today I want to. I'm coming out of blog hiding. Just to prove how out of hiding I am, I think I will post my New Year's resolutions for the whole internet to read.
I took a refreshing break from New Year's resolutions a couple years ago, and I feel it's time to go back. But I'm not the obsessive goal driven accomplish-er I used to be. The more relaxed me sets a yearly theme, with a few bullet points to guide my direction. This year's theme is:
Live with purpose.
Live with joy.
Everday.
Nourish my marriage
Teach Eleanor everyday
Be a conscientious visiting teacher
Take a course to further prepare myself for ASL interpreting
Explore more vegetarian meals
Pay off a lot of student debt
Cultivate meaningful relationships with family members
I think it will be a great year as I really focus on doing things that bring joy and take the time to enjoy whatever it is I'm doing. What are some of your New Year's resolutions?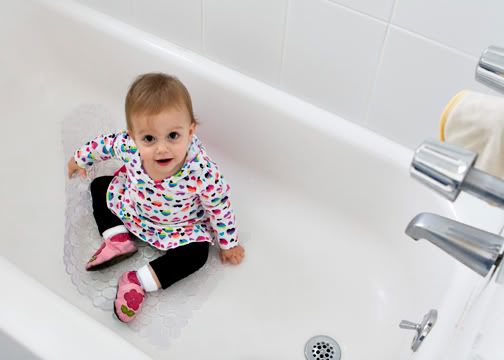 Ellie has vowed to spend more time in the tub, obviously.